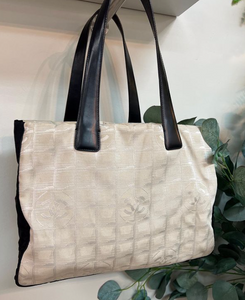 Chanel introduced its travel line to offer bags that were lighter weight and more discrete.  Chanel's travel line collection was so popular, it was released twice!  The two Chanel travel lines are appropriately called the Old Line and the New Line. This fabulous bag in very good/excellent pre-loved condition is from the New Line.
For starters, if you never thought you could afford a genuine Chanel bag -- this one is for you!  So lightweight and chic (black & white is always sooo Chanel and chic), this bag would be excellent to carry as a regular handbag in spring and summer -- travel or no travel!
Made of nylon (except the leather handles which are in A condition), the bag is white/ off-white on front and back with the sides and bottom being black. 
As always, we offer a 100% unconditional authenticity guarantee!  
We are not directly associated with the brand Chanel.  Chanel is a registered trademark owned by Chanel.